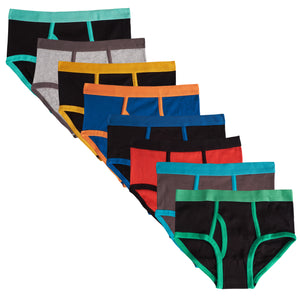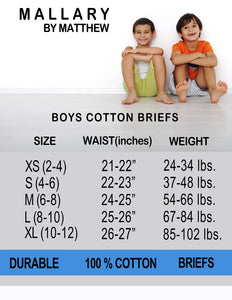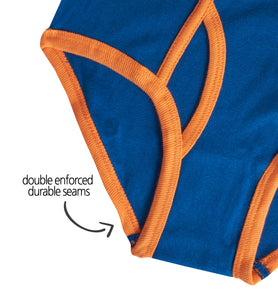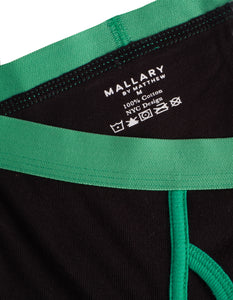 Mallary by Matthew briefs are made to endure the toughest boys! Made of 100% cotton, our boxer briefs are stretchy, breathable, and durable. Our 8-Pack briefs underwear are available in multiple colors and designs, including: Blue, Green, Red, Orange, White, Grey/Gray, and Black. They come in multiple sizes: X-Small (2-4), Small (4-6), Medium (6-8), Large (8-10), and X-Large (10-12). We guarantee that our briefs are Great for everyday use and will keep you boys cool and dry! By using a great quality cotton, these briefs will last wash after wash. The elastic is designed to keep them in place without bunching! The soft cotton underwear will be the best part of getting dressed.
Best underwear for boys! Will buy again!
I'm so impressed with this brand and their underwear. My son is autistic and he is very picky about his clothes and incredibly sensitive to textures. I am so glad I found Mallary by Matthew briefs, because he ABSOLUTELY LOVES THEM. Finally some super soft, comfortable briefs with a great fit all around.
He adores the colors as well, and says he doesn't want to wear any other undies anymore. He immediately tried all of them on and I haven't seen him this happy in a while. I expect them to last a long time, but we will definitely come back here to buy more. Highly recommend, especially for kids with texture/sensory issues! Thank you so much!
Love them!!
Both my boys absolutely love these underwear! For reference, one is stocky and thicker, the other is lean and strong - - but they're the same height. Both wear size S in this brand.
Things they like: undies look like dad's, fit well around both waist and thighs (had problems with other brands loosening in the leg over time and with *ahem* parts flopping out and about on the skinny child), they like the colors, and they say they're comfortable.
To boot, I got them on sale this time and so they were cheaper directly through Mallary by Matthew's website than through Amazon, which is where I encountered them first. I'm trying to steer away from Amazon these days, so I was really excited about that!!
I highly recommend!!
Soft!
Great underwear that has lasted